Interested in becoming Catholic? Learn more about our OCIA and Adult Sacramental Formation offerings below.
Contact Leonor Carvajal any time for more information at lcarvajal@stisidoreparish.org or (630) 295-8351.
OCIA – Order of Christian Initiation for Adults
Our OCIA sessions prepare participants for full membership in the Catholic community through a process that includes in-person sessions and prayerful study. The culmination of the program arrives at Easter time, where participants will receive any or all of the sacraments of Baptism, Confirmation and Eucharist.
Parishioners who are interested in sharing their faith with these participants may become sponsors.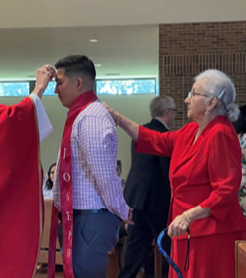 Adult Sacramental Formation
We also offer a formation program for baptized Catholics who wish to complete their sacraments of initiation, including Confirmation and Eucharist.